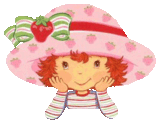 I won't go into much depth about the game, but I will brief. The Strawberry Shortcake Sweet Dreams Game is a simple platforming game for the Playstation 2, (there is also a game boy advanced version of this game, probably much different. Not what I'm covering today) based off a movie of similar name. I've not seen the movie, so I'm not sure how much of the plot is shared, but the game follows Strawberry Shortcake and her friends heading to dreamland to save the day, after bad things, like strawberries not growing, start happening. The game disc, case, and manual all smell of strawberry, how this is possible is something I've been wondering for many many many years. While collecting strawberry seeds in game during levels, you can redeem them for bonuses in the strawberry garden. These bonuses include unlocking playable characters and recipes, not in game recipes, but actual recipes for you to try. I have not tried any of these recipes, that I am about to share, but I hope to try them some day haha, just haven't gotten to doing so over these 15+ years... Sharing these because I haven't seen them anywhere online haha.
---
Safety
here is the safety message featured on screen before proceeding to view the recipe. If you are attempting these, be safe haha.
Strawberry Shortcake
here is the recipe for strawberry shortcake, I will type it out soon, as these pictures might not be the greatest haha.
Strawberry Shortcake
Ingredients for 8:
2 cups flour
3/4 cup milk
1 tablespoon baking powder
1/2 teaspoon salt
3 tablespoons sugar
6 tablespoons butter
1 quart fresh strawberries
1/3 cup sugar
1 1/2 cups whipping cream
Strawberries: prepare strawberries an hour or two before before serving. rinse the strawberries under cold water and drain well. slice the strawberries in halves; place in a bowl. sprinkle with the sugar; cover and let stand at room temperature for about one hour.
shortcake: preheat the oven to 425°F. set rack at centre level. use a large bowl to combine flour, sugar, baking powder and salt. mix thoroughly. cut butter into small pieces and working with fingertips. make a well in the center. stir in milk. mix just until dough is moist. let dough stand for a minute. turn into a buttered and flowered round cake pan and pat into shape. brush on a little milk or cream and sprinkle tops with some sugar if desired. bake for 10 to 15 minutes until risen and golden brown. test with a toothpick inserted in the center. if it comes out with dough clinging to it, lower the heat to 350°F and bake about five more minutes. remove from the pan and split horizontally with a serrated knife. Butter the hot biscuits then top with the strawberries. Serve with whip cream for topping
Strawberry Crêpes
Strawberry Crêpes
Ingredients:
12 crepes, dessert or chocolate
2 cups of strawberries rinsed, hullied, and sliced
1/4 granulated sugar
8 ounces cream cheese, softened
1/4 cup confectioners' sugar
Reserve one cup of the strawberries. in a small bowl, combine remaining strawberries and add 1/4 cup granulated sugar: refrigerator chill thoroughly. in a medium bowl beat cream cheese and powdered sugar until smooth and well blended. stir in reserve strawberries. spread about 1 tablespoon strawberry and cream cheese mixture over each crêpe. roll up.
serve topped with the chilled sweetened strawberries.
serve strawberry crêpes with whipped cream or whipped topping
Blueberry Muffins
Blueberry Muffins

Blueberry muffins are made with fresh or frozen blueberries.
Ingredients:
1 1/2 cups all-purpose flour
1/2 cup granulated sugar
1 tablespoon baking powder
1/2 teaspoon salt
1 egg, beaten
1 1/2 cup milk
1/4 melted shortening, cooled.
1 cup blueberries, fresh or frozen, rinsed and drained.
Into a mixing bowl, sift flour, sugar, baking powder, and salt. in a separate bowl whisk together egg and milk. stir egg and milk mixture into the dry ingredients. stir in cooled melted shortening, stirring just until ingredients are blended.
Fold in blueberries. spoon better and to 12 generously greased muffin cups filling each about two-thirds full. bake at 400° for about 20 to 25 minutes. makes 12 medium blueberry muffins.
Blueberry Pancakes
Blueberry Pancakes

Use fresh or frozen blueberries in this pancake recipe.
Ingredients:
2 eggs, separated
1 1/2 cups sifted all-purpose flower
2 1/4 teaspoons baking powder
3 tablespoons sugar
3/4 teaspoon salt
1 cup milk
3 tablespoons butter, melted
1 cup fresh or frozen thawed blueberries, rinsed
In a small bowl, beat egg whites until stiff: set aside. in a separate bowl sift together flour, baking powder, sugar and salt. beat egg yolks in a medium mixing bowl: add milk and melted butter. stir egg mixture into dry ingredients: mix until batter is smooth and stir in blueberries. fold in beaten egg whites bake on hot greased griddle.
makes 12 pancakes.