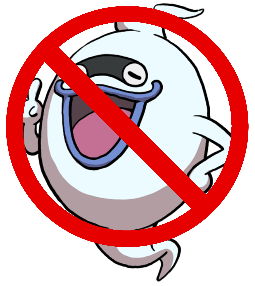 WARNING! THIS IS A HATE PAGE! FUCK WHISPER YOKAI WATCH!
Currently going to try my best to channel the energy of 14 year olds who love starting discourse and harassing people online, so I can properly express my feelings about Whisper from Yokai Watch.
Whisper ugly asf, but I guess I shouldn't only judge by looks. In both the game and anime (if I can remember) he acts as a guide feature, who is noticeably annoying, which I believe is pointed out by Nate (idk his japanese name, not into Yokai watch that much) in the anime. He's annoying as hell I hate him so much also his voice is annoying stfu stupid ass whisper! There's a reason why there's so many plushies in surplus of you at the local dollarama, no one wants you.
Back.